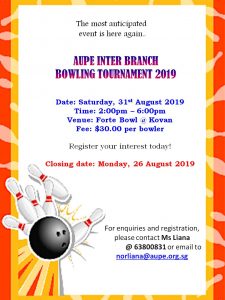 Objective
To identify and select 2 teams of 6 bowlers (male & female) and 1 team of 6 ladies bowlers to represent AUPE for the U Games 2019/2020 Grand Masters Bowling Championship.
To promote and foster goodwill, friendship and sportsmanship amongst the AUPE branches.
Rules & Regulations
Eligibility: This tournament is open to all Male and Female union members of AUPE.
Category: The Men's Open and Ladies' Open categories.
Time: Check in – 1.30pm. Roll off – 2.00pm.
Format of play: This is a single event and each bowler is required to bowl 6 Games.
Prizes: Prizes will be awarded to the top 5 bowlers. Prizes will also be awarded for Individual Men High Game and Individual Ladies High Game. The highest total pinfalls of the 6 games will determine the winner. The branch trophy will be awarded to the branch with the highest total pinfalls of the top 3 bowlers (regardless of gender) from the branch. Should your branch send less than 3 bowlers, your branch will not qualify for the inter branch competition.
Tie Breaker: In the event of a tie, the bowlers with the highest high game will be declared the winner. Should there be a tie again then the next highest game will be considered and so on.
Dress code: All bowlers are required to be attired in long pants/slacks. If the Tournament Manager is of the opinion that the bowler is not appropriately dressed, he/she may not be permitted to bowl. Bowling shoes will be provided for all bowlers but bowlers will need to bring their own socks or purchase from the bowling centre.
Protest and Errors in the score: Protest involving any discrepancy in the score will only be entertained if such protest is brought to the attention of the tournament official immediately after each game and/or before the prize presentation ceremony. The decision of the tournament committee is final.
Important points to note
Registration is based on first-come-first-served basis and will be closed once maximum number is reached.
Late entries and incomplete details will not be entertained.
Only players' names that are listed in the Registration form shall be eligible to participate in the Competition. Changes to the line-up will not be accepted, once it has been submitted to the organizing committee on the closing date.
Any changes / amendments / decisions would be made at the sole discretion of the Organizing Committee.
To register, please complete the requested forms and return them to me via email to norliana@aupe.org.sg or via fax to 62842142. Payment could be made by cash or PayNow.
Click here to download registration form.
Click here to download AUPE Acknowledgement form. 
Registration closes on Monday, 26 August 2019.
Register your interest today!
For enquiries, please call Ms Liana at 63800831 or email to norliana@aupe.org.sg
 Thank you and we look forward to your support and participation.